I just had to share this one. Paste Magazine has put up
20 Disney characters and their real-life counterparts
, in honor of Elizabeth Banks' recent casting as Tinkerbell in a live-action movie. Some of these really spot-on, I have to say.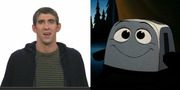 The Brave Little Toaster. Ok, we admit it. This one was all about the ears. ">
Michael Phelps and the Brave Little Toaster
Do you agree with these? Can you think of any others? Discuss.