Welcome to a new series of mine, The Movie List. The Movie List is a 37-part look back at the Oscar Races for 2004, 2005, and 2006, as I examine the good, the bad, and the forgotten films that had everyone buzzing. Of course, this sounds kind of ridiculous and weird, but here's the deal: I've been working on this Movie List (created from
Entertainment Weekly's
25 Movies to See Before Oscar Night) for quite some time, and so far I've fully completed 2007-2009, while partially finishing 2004-2006. I've decided to turn my experience in finishing the list into a series, which won't feature a number of major contenders (
Brokeback Mountain
,
Sideways
,
Dreamgirls
), since I've already seen them, but it will feature plenty of interesting films. Stay with me on this, and I promise you'll find something interesting in this.
Film: A Very Long Engagement
Directed by Jean-Pierre Jeunet
Oscar Nominations: 2 (Art Direction, Aline Bonetto; Cinematography, Bruno Delbonnel)
I was reading on the A.V. Club this week an entry into their ongoing series The New Cult Canon in which they discussed Jeunet's debut film, Delicatessen. And it made a point that Jeunet's films, even his unfortunate attempt at Hollywood, are always marked by his characteristic blend of sarcasm and whimsy, dark material with light humor. And how you feel about Jeunet will directly affect what you think about his films.
A Very Long Engagement reunites Jeunet with his Amelie star Audrey Tautou, who plays Mathilde, a woman who is searching for her missing fiancée (Gaspard Ulliel) at the end of World War I. Over the course of the film, we hear of what happened to Manech and his fellow soldiers on the battlefield, with vary accounts that counter previous versions. This provides an interesting plot device, since it allows us to see how the creation and destruction of Mathilde's hope affects her in her quest. The film also features great supporting turns from Marion Cotillard and Jodie Foster.
Like all of Jeunet's films, it features his trademark direction, with all the gallows humor one could ask for. This actually does help the film, which in any other hands would have been a standard (though beautiful) romantic epic. And boy is this film beautifully shot. Delbonnel's cinematography is more than Oscar-worthy, full of epic sweep and inventive uses of filters, angles, and styles. The performances are also great, particularly the always-incredible Cotillard, who steals every scene she's in.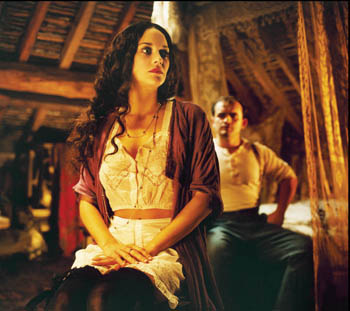 The lovely and wonderful Marion Cotillard
The one thing that bothered me about the film, however, is that Jeunet's style does start to wear thin after a while. He reminds me of a French Tim Burton (minus Burton's limited color palate): he loves to dabble in the surreal but sometimes gets too absorbed in his own head. With a little restraint, A Very Long Engagement could have been a masterpiece. As it stands though, it is an excellent film, certainly one of the best France has made in the past decade.