Well, my usual coverage of the ceremony was derailed this year by a busier schedule, but it's all over now. So let's wrap up this year's Oscars with a few tidbits that I liked/didn't like.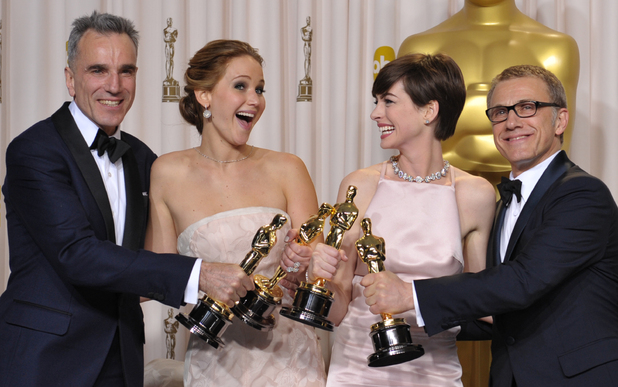 THE WINS
- A tie! This is one of those situations where I wish the Academy would publish the final vote tallies. A tie is declared if two nominees come within three votes of each other in the final round. I would love to know how close
Zero Dark Thirty
and
Skyfall
were in Sound Editing for them both to take home trophies. And with those two,
ZDT
won it's only award of the night, and
Skyfall
- with this and Best Original Song - matches the win total of the previous 22 James Bond films combined.
- Speaking of
Skyfall
, this year a Bond film won Best Original Song for the first time ever. Doesn't that seem odd, given the high volume of classic songs the franchise has produced? But if anyone was going to do it, it would be Adele, since she's legally required to win anything she's nominated for.
-
Beasts of the Southern Wild
is the only Best Picture nominee to go home empty-handed, though it faced stiff competition in all of it's categories. Still, that's a shame for one of the year's most imaginative and exhilarating films.
- I've mentioned before that my opinion on
Django Unchained
has soured in the months since I've seen it. I need to give it another viewing, but Christoph Waltz's win in Supporting Actor was disappointing (not that he wasn't great, but category fraud + better nominated performances from, well, everyone). It's great that Tarantino won another Oscar for writing, but not for his least-focused, most-troubling screenplay. Especially given the other works in the category.
- On writing: I liked Chris Terrio's work on
Argo
, which won Best Adapted Screenplay. But Tony Kushner wrote the best screenplay of the year - bar none - for
Lincoln
, and it's a huge disappointment that he wasn't recognized for it.
-
Life of Pi
took home the most awards, with four, while
Argo
and
Les Miserables
took home three apiece. I was genuinely pleased to see Ang Lee take home the directing prize - it was a wide-open field, and if you subbed out David O. Russell for
Zero Dark Thirty's
Kathryn Bigelow, I think it would have been the best Best Director field in years (yes, I know, POOR BEN AFFLECK; he was worthy, yes, but I liked Bigelow, Spielberg, Lee, Haneke, Zeitlin, Wes Anderson, and Paul Thomas Anderson's work more this year).
- By my count (and correct me if I'm wrong), but the last time the film with the most wins didn't take home Best Picture was 2004, when
The Aviator
won five Oscars but lost Best Picture to
Million Dollar Baby
. This year
Life of Pi
lost to
Argo
.
THE CEREMONY
- Look, Seth MacFarlane wasn't that bad. He's a charmer, a good singer and a decent dancer. He toned down his usual offensive shtick, I thought: the average episode of
Family Guy
has more misogyny and racism than his hosting gig did. There's just some unwritten rule that every year's host is the WORST HOST EVER!!!!!1 the morning after the show.
- Meryl Streep doesn't need to open envelopes. The Streep just knows.
-
Also, Good Guys Hugh Jackman, Jean Dujardin, and Bradley Cooper
.
- The tribute to 50 years of James Bond fell a little short, didn't it? I think there was a major missed opportunity there. But Sheena Easton was phenomenal.
- The tribute to movie musicals over the past 10 years was good, if limited (
Chicago
,
Dreamgirls
, and
Les Miz
: the only ones that matter!). The movie musical is never going to reach the heights of popularity it did decades ago, but it's far from dead. And look at the number of actors who are huge stars AND can sing - you have no excuses, Hollywood.
- The tie: Mark Wahlberg's half-incredulous, half-disappointed reaction - "No BS, we have a tie" - was a thing of beauty.
So what did you think? Below is a full list of winners.
Best Picture:
Argo
Best Actress: Jennifer Lawrence,
Silver Linings Playbook
Best Actor: Daniel Day-Lewis,
Lincoln
Best Supporting Actress: Anne Hathaway,
Les Miserables
Best Supporting Actor: Christoph Waltz,
Django Unchained
Best Director: Ang Lee,
Life of Pi
Best Adapted Screenplay: Chris Terrio,
Argo
Best Original Screenplay: Quentin Tarantino,
Django Unchained
Best Foreign Language Film:
Amour
(Austria)
Best Animated Feature:
Brave
Best Documentary Feature:
Searching for Sugar Man
Best Documentary Short:
Inocente
Best Animated Short:
Paperman
Best Live-Action Short:
Curfew
Best Cinematography: Claudio Miranda,
Life of Pi
Best Costume Design: Jaqueline Durran,
Anna Karenina
Best Film Editing: William Goldenberg,
Argo
Best Makeup & Hairstyling: Lisa Westcott and Julie Dartnell,
Les Miserables
Best Original Score: Mychael Danna,
Life of Pi
Best Original Song: "Skyfall," music and lyrics by Adele Atkins and Paul Epworth,
Skyfall
Best Production Design: Rick Cater (production design) and Jim Erickson (set decorator),
Lincoln
Best Sound Editing: (tie) Per Hallberg and Karen Baker Landers,
Skyfall
; Paul N.J. Ottoson,
Zero Dark Thirty
Best Sound Mixing: Andy Nelson, Mark Paterson, and Simon Hayes,
Les Miserables
Best Visual Effects: Bill Westenhofer, Guillaume Rocheron, Erik-Jan De Boer, and Donald R. Elliot,
Life of Pi